Well, it has been four months or more since I last posted. They say time flies when you are having a good time, only I have not been having a good time.
Back in January and February I was having recurring sinus and eye infections. In March the doctors came to the conclusion that the source of the infections was the titanium mesh that was placed under my left eye ball and a plate that was placed on the front edge of the eye socket to support where bone had been removed during the previous
maxillectomy

.
They decided that all that hardware had to come out.
What was supposed to be a 30 minute procedure turned in to a 90 minute ordeal. It took two surgeons to pull the mesh out because of all the scar tissue. That resulted in the most post-surgery pain that I have had in any surgery. It was six weeks of Oxycodone, Tylenol, Advil and Excedrin to try and keep the pain down to a dull roar. Couple that with not being able to stay awake most of the day for the last three months and it has been very difficult getting anything done. Hence, no blogs or much of anything else.
We have now completed the second six sessions of immunotherapy and they did a PET-Scan. The results are that there is no sign of new cancer, the cancer that showed up in the first scan is still gone, and the tumor in my left sinus is still small and not growing. It was difficult to see for sure because of all the inflammation around the eye because that area lit up as if cancer was present. Injury areas and cancer will show up the same because both uptake carbohydrates in increased amounts vs. normal cells. The ENT surgeon scoped that area just two weeks ago and there was no sign of cancer.
So the plan now is to do another six sessions over the next 18 weeks and then another PET-Scan and see if the sinus tumor continues to shrink.
The fatigue and sleepiness is starting to be an issue. There are days where I fight to stay awake and finally give up and go take a nap lasting anywhere from 1 to 2 hours, usually late morning and/or mid-afternoon. If I try and read or watch TV or work on the computer it is a constant battle to stay awake. It is frustrating to be writing on the blog, fall asleep in mid sentence, find a long string of bbbbbbbbbbbbbbbbbbbbbbbbbbbbbbbbbbbbbbbbbbb
or some other string of letters and have no idea what my thought was.
But it seems that we are making some gains. This week I have been awake most days and not taken a nap. Until today. Got up about 6 a.m. ate breakfast and at 10 I was fading fast and decided not to fight it, laid down and slept until 11: 45. I was able Tuesday and Wednesday to finish my bookkeeping. I was only 6 months behind.
So what have we been doing these last 6 months? Trying to stay dry mostly. Portland has received more than their normal amount of rain, which is significant, and much more snow than normal. At one time we had a foot of snow on the ground. The Camaro was not happy. I knew that I would not be able to drive it on icy or snowy roads, but also discovered that on wet streets you had to careful how much force you put on the throttle that is controlling 400 HP and a Kona128$6 speed transmission and suddenly those big wide racing tires break traction and the rear end starts going in a different direction than the front end. Not a good thing. Besides, do you have any idea what it is like to drive a 400 HP, 6 speed, finely tuned sports car on the Portland freeways at 10 to 15 MPH? ARRRRRRG!! It is like being in a parking lot that is log jammed. FRUSTRATING!!!
It was a painful decision to take the Camaro to the local Mercedes dealer and strike up a deal on a 2017 E300 4 wheel drive.
I also discovered that retirement home living is not for me. These places are filled with OLD people! At least half are using walkers or in powered wheel chairs or scooters. So far no one has been killed but that could change.
Since I was not a happy camper at the retirement home, I talked with Jeri about the possibility of buying a home. Our house in Hawaii was in escrow and we were going to make a very nice profit on it, thanks to being able to buy low and sell high. I had heard that nugget of wisdom most of my life but had never been in a position to take advantage of it. I seemed to be always on the opposite end of the stick. So we got with a realtor and started looking for a home.
We soon discovered that the Portland market was an over-heated sellers market. After we had made offers on three different houses, we find out that people are offering 30, 40, even 60 k over the sellers asking price. I decided that I had had enough of dealing with irrational people and we quit looking.
Thoughts started running around in my brain that maybe Boise weather would be a better deal. Sure, they have winter but it is a dry cold, not the wet, cold rain of Portland that soaks all the way to the bone. Besides with snow you just brush it off. And the sun shines there a whole lot more than Portland.
I then went to my ENT surgeon and Oncologist and asked them if they knew any doctors of their persuasion in Boise that could take as good of care of me as they had. They replied "Oh, yes, we can give you several names." They both recommended doctors that work at Saint Luke's hospital which also has a cancer center. Now it is just a matter of referrals being made and records being sent.
With that concern being taken care of, we were now able to try and buy a house in Boise, preferably close to one of our two kids. Kris then calls me and emails me a couple of listings that are close to her or Andy. We pick the one that was just down the street from Kris but by the time we got our ducks all lined up, they had already accepted an offer.
Two days later she emails me a picture of a house that the neighbors say is coming on the market the next week.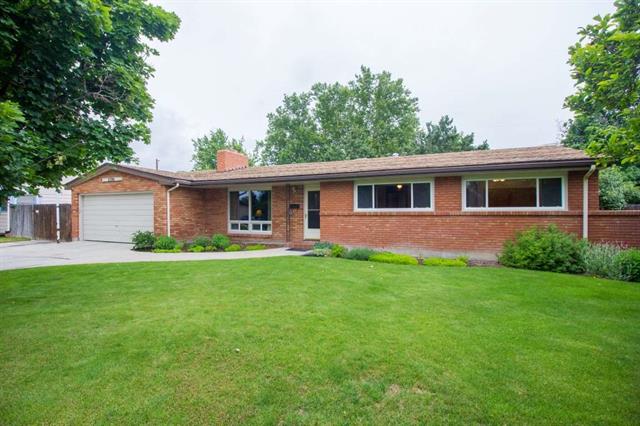 So the day that the house goes on the mark
et, she and our realtor are at the house at 8 a.m. and they do a walk through with an Ipad and face time Jeri and me and we get a cooks tour of the house, yard and neighborhood. Jeri and I talk it over, we get Kris' feed back and make an offer the next day. The sellers accept our cash offer and we are off and running. Escrow is scheduled to close on the 19
th
of July, a POD will be delivered here at the retirement center on the 19
th
, a company called Soft Landings will start pre-packing on the 14th and then come back on the 20
th
, finish packing and loading the POD. Kris is flying in on the 20
th
to help and then drive the C-250 Mercedes, which I sold to her, back to Boise. Andy is flying in on the morning of the 21
st
, we will pick him up at the Portland airport and then head straight for Boise. He is going to help drive the E-300 Mercedes so the kids don't have to worry about me falling asleep. I'm not worried. As Alfred E. Newman said so eloquently, "What, me worry?"
So again, God has shown that He is in control, He closed the doors to buying a house in Portland, He has opened the doors medically so that I have confidence that there are doctors in Boise that are qualified to continue to monitor and treat this cancer. We now have the chance to spend quality time with Andy, Lesley and Kris instead of short visits during holidays or birthdays. They have not lived in the same area as us since they left home. And as for our oldest son and daughter in law, Sorry Chuck and Stacia, we ain't moving to Chicago!